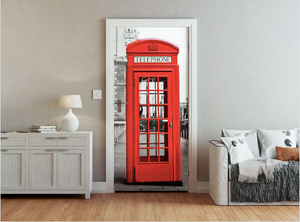 Try something new and fun with our ready made Door murals. 
The best of British design takes centre stage in an otherwise sepia setting. Making the red really pop, this is a mural which will add a slice of brilliantly British culture to your interior.
Our Door Murals are printed on High Quality non woven wallpaper designed for high traffic areas. They're tough, scuff-resistant, flexible, and designed to be installed in minutes.
Available in 1 size: 0.95m wide x 2,1m high.