Interior Wall Murals & Wallpaper For Your Home, Office or Store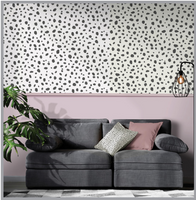 Monochrome designs for 2022? OH YES!
Monochrome has been an iconic fashion look for years, and there's no doubt it's having a big comeback right now....
READ MORE HERE
Wallpaper Murals for Walls
We are a Sydney Based Wallpaper Importer & Distributor of numerous wallpaper brands to both the Retail & Business to Business Sector, as well to our direct customers. We're dedicated to help you leverage your home and office space's potential by providing it with some truly unique designs. Proudly supplying Australian homes and businesses with a huge collection of concepts, we turn less-than-impressive interiors into works of art. Within our non-woven wallpaper range, you will find a selection of unique wallpaper designs, and gorgeous interior wall murals from Sweden, Germany, France and the United Kingdom, to name a few. 
You can even send us your photographs or favourite image and we will turn your precious memories into something that will add plenty of sentimentality into your room with a custom wallpaper print. Our professional printing team works to ensure our valued customers receive their perfect design as we understand the importance of adding the right touch to your space.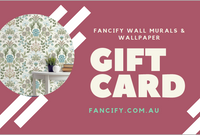 Here's How
Due to the current climate we are facing worldwide, we have introduced gift cards to make things easier for our customers. Simply choose any monetary value you want and gift someone special today! Unique wallpaper designs and interior wall murals for gift ideas made easy. 
Click Here
Fantastic service. Natalie has been wonderful, my emails were answered promptly, my product was completed and shipped very quickly. I am yet to have my mural installed but I am sure we will love it!

Jaimee Short
I cannot speak highly enough of the service provided by Fancify Wall Murals. I was chasing a particular product from the UK and Natalie went above and beyond to source it for me. Once ordered it arrived within 2 days. I would definitely recommend them for any wallpaper/wall mural projects.

Anne Bell
We have loved the wall mural we purchased from Fancify Wall Murals. Service was excellent and it has truly brightened our sons' bedroom. We would gladly use them again.

Kate Siebert
Natalie and her team were terrific to work with. We had a complicated request which Natalie personally managed and went above and beyond to ensure it all went well and was delivered in time. We absolutely love our designs. Thank you Fancify!!!! :)

Sam Smith
I loved this site and product ... I live a long way away and wanted a great present for my grandsons.. A mural map of the world for the three year old and a lovely nursery scene for the one year old.. Natalie's service and delivery I have to say are top class... and the walls look great and make such a difference. Thank you

Marilyn Sewell
Really effective design giving a real 'wow factor' to a room. So many colours in this design allows you to match accessories in any colour from blues, browns, greys, and rose... even white would be the perfect accent. Can't wait to put up the next design. My where to buy wallpaper question was answered by this team!

Glenn Riddle
Absolutely fantastic product and service. I was in a rush for wallpaper, and Natalie came through. Quoted 6 business days for delivery, I ordered product on Friday, and was shocked when it was delivered on Monday after the weekend. 5 stars.Thanks again Natalie.

Dan Beattie